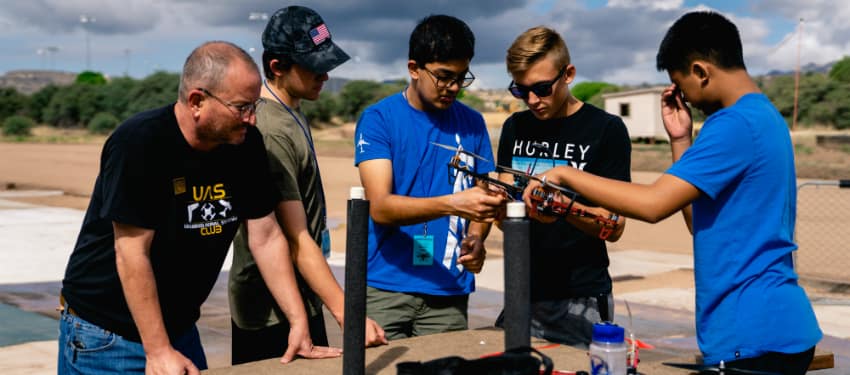 Please check back for updates on Summer 2022 camps.
Join us for one week of pre-college, academic classes!
Come and learn how drones are being used in today's world. Students will be introduced to drone operations through classroom instruction, flight simulators, and actual flight operations. Classes will include an introduction to small Unmanned Aerial Systems, common uses, Unmanned Aircraft Systems Lab (UAS), UAS Sims and 3-D mapping and rendering software. Students will gain an understanding of UAS fixed wing and multi-rotor aircraft through hands-on experience building, testing and flying an autopilot controlled quad-copter.
For: High School Students ages 15-18 who are interested in UAS/drones
Location: Embry-Riddle Aeronautical University - Prescott, 3700 Willow Creek Road, Prescott, AZ 86301 and Universal Helicopters in Prescott, Arizona
Registrations will be accepted until the program is full. The total enrollment capacity for this program is 10 per week.
Registration Process
Complete our Registration form and deposit by clicking "Register Today" at the top of this page. Once you register and pay the deposit, you are conditionally enrolled in the program.
Registration/Enrollment Packet - An email receipt of payment with a link will be sent to you after the registration/enrollment and deposit has been submitted, to download, complete and return to our office.
We must receive the completed Registration/Enrollment Packet within 30 days to hold your spot in this program.
Once we have received all required documents, your student is fully accepted to the program.
Personal Statement: Each participant is required to submit a personal statement of 150-250 words answering the following question: "Please tell us what attending this program would mean to you." Then submit to the Summer Programs Office with your Registration Packet.
Teacher Recommendation: Please print the Teacher Recommendation form and have completed by a teacher, then submit to the Summer Programs Office with your Registration Packet. This form must be returned for your registration to be complete.
Registration Packet: A link will be sent to you after the registration has been completed to download, complete and return to our office.
Parents, guardians and families are invited and encouraged to participate in the Completion Luncheon/Dinner on Friday at noon. The Completion Luncheon/Dinner for the Summer Programs participants is included in the cost of tuition; please do not include the student in your count. The fee for our luncheon guests is $18 per person. If you have any questions, please contact our office at (928)777-3956.
Sign up for the completion luncheon/dinner
Please visit parent resources for a comprehensive list of frequently asked questions.
Summer Camps Updates
Fill out the form below to get up-to-date info on Summer Camps at Embry-Riddle.
Summer Overnight Camps
Live on campus like Embry-Riddle students and explore career possibilities in flight, mechanical engineering, global security, or what it is like to be a NASA astronaut.
Embry-Riddle's overnight summer programs at the Daytona Beach Campus and Prescott Campus introduce the technology of today to the aviators, engineers, and astronauts of tomorrow.
Students live in on-campus dormitories — under the supervision of approved counselors — and share their initial experience of University living with other young people near their age.