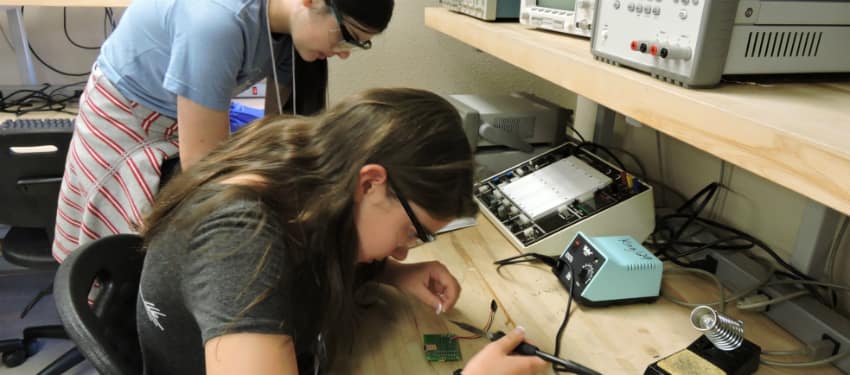 This Camp has been cancelled. Please contact campus staff by filling out the Summer Camps Updates form for reopening information.
This hands-on experience provides students the ability to learn about software, hardware, and applying the Arduino. Each student will be tasked with programming an Arduino Microcontroller, and testing applications such as sensing temperature and pressure, and controlling motors.
Students will also learn about printed circuit board design and fabrication, soldering surface mount components, and designing their own applications for the Arduino to be used in labs. Labs will consist of creating a prototype design on a breadboard, and verifying the design works using our state-of-the-art test and measurement equipment. This summer program will enable participants to take their interest in computer, electrical, and software engineering to the next level.
For: High School Students ages 15-18 who are interested in computer, electrical, and software engineering.
When: July 17-22, 2022
Tuition: $1,430
Location: Embry-Riddle Aeronautical University - Prescott, 3700 Willow Creek Road, Prescott, AZ 86301
A limited amount of full and partial Boeing Scholarships are available to high school students interested in engineering and aerospace.
Tuition & Fees
Tuition includes supervised housing, on-campus meals, classroom instruction, books and materials. A limited amount of linens are available for purchase but students are requested to bring their own sheets/towels. More information to be provided in Enrollment packet. Camps require a non-refundable $30 registration fee
Application Process
After the registration is processed, a link will be sent detailing all pertinent information and requesting specific documentation.
Registration
Registration will be open mid-January 2022.
The Boeing High School Scholars Program is a highly selective program that provides students the opportunity to study collegiate level engineering at Embry-Riddle Aeronautical University. The Boeing Corporation, in partnership with ERAU Prescott, offers full or partial scholarships to cover the cost of an engineering summer program. (Scholarships do not cover travel expenses to or from ERAU).
Scholarship Requirements:
3.0 GPA or better
Prove financial need
U.S. Citizen
One page essay submission (requirements below)
Essay Questions:
What innovations do you see in the future of engineering?
Why is attending this program important to you?
For your scholarship application to be considered, both questions must be answered in essay format and submitted before March 1, 2022. Applications submitted without an essay will NOT be considered for the scholarship. Please click here to upload your essay as an email attachment or email your essay directly to: prsummer@erau.edu with Boeing Essay as the subject.
Your Boeing Scholarship Application does not secure or hold a spot for you. If you wish to guarantee a spot in any engineering program, you must complete the registration and pay the tuition as well as submit your Boeing application. Once scholarships are approved, the tuition will be adjusted with the scholarship amount refunded.
Summer Camps Updates
Fill out the form below to get up-to-date info on Summer Camps at Embry-Riddle.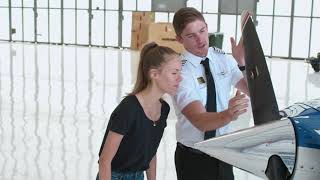 Summer Overnight Camps
Live on campus like Embry-Riddle students and explore career possibilities in flight, mechanical engineering, global security, or what it is like to be a NASA astronaut.
Embry-Riddle's overnight summer programs at the Daytona Beach Campus and Prescott Campus introduce the technology of today to the aviators, engineers, and astronauts of tomorrow.
Students live in on-campus dormitories — under the supervision of approved counselors — and share their initial experience of University living with other young people near their age.