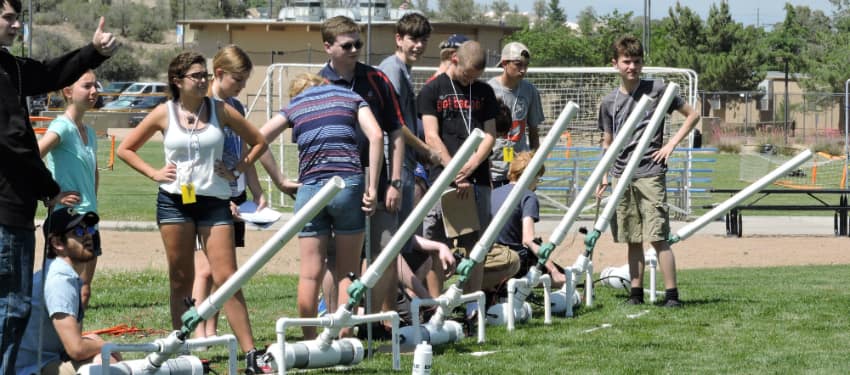 Please check back for updates on Summer 2022 camps.
Join us for one week of pre-college, academic classes!
This is a mathematics intensive program where students will be challenged to gain a better understanding of rockets, spacecraft, satellites, orbits, and the techniques developed by the American Spaceflight Program. Classes will include Mathematics, Physics, Astronomy, Dynamics, Astrodynamics, Altitude Determination and Control, Space Systems Engineering, Propulsion, and the History of the American Spaceflight Program. All classes are taught by Embry-Riddle Aerospace Engineering professors who have years of experience in the industry and will ensure students a greater knowledge and understating of space at whole new level!
For: High School Students ages 15-18 who are interested in astronautical engineering and space
Location: Embry-Riddle Aeronautical University - Prescott, 3700 Willow Creek Road, Prescott, AZ 86301
Registration Process
Complete our Registration form and deposit by clicking "Register Today" at the top of this page. Once you register and pay the deposit, you are conditionally enrolled in the program.
Registration/Enrollment Packet - An email receipt of payment with a link will be sent to you after the registration/enrollment and deposit has been submitted, to download, complete and return to our office.
We must receive the completed Registration/Enrollment Packet within 30 days to hold your spot in this program.
Once we have received all required documents, your student is fully accepted to the program.
Personal Statement: Each participant is required to submit a personal statement of 150-250 words answering the following question: "Please tell us what attending this program would mean to you." Then submit to the Summer Programs Office with your Registration Packet.
Teacher Recommendation: Please print the Teacher Recommendation form and have completed by a teacher, then submit to the Summer Programs Office with your Registration Packet. This form must be returned for your registration to be complete.
Registration Packet: A link will be sent to you after the registration has been completed to download, complete and return to our office.
Parents, guardians and families are invited and encouraged to participate in the Completion Luncheon/Dinner on Friday at noon. The Completion Luncheon/Dinner for the Summer Programs participants is included in the cost of tuition; please do not include the student in your count. The fee for our luncheon guests is $18 per person. If you have any questions, please contact our office at (928)777-3956.
Sign up for the completion luncheon/dinner
Please visit parent resources for a comprehensive list of frequently asked questions.
Scholarships
The Boeing High School Scholars Program is a highly selective program that provides students the opportunity to study collegiate level engineering at Embry-Riddle Aeronautical University. The Boeing Corporation, in partnership with Embry-Riddle Prescott, offers full or partial scholarships to cover the cost of an engineering summer program. * (*Scholarships do not cover travel expenses to or from Embry-Riddle).
Boeing Scholarships spaces available in the following programs: Aerospace Engineering "Aero" Track, Aerospace Engineering "Astro" Track, Engineering Aerial Robotics and CESE Arduino. Female and minority students are strongly encouraged to apply.
Scholarship Requirements:
Have a 3.0 GPA or higher
Be able to prove financial need
Minorities and females are strongly encouraged to apply
Must be a U.S. citizen
Submit a one page essay (requirements below)
Essay Questions:
What innovations do you see in the future of engineering?
Why is attending this program important to you?
In order for your scholarship application to be considered, both questions must be answered in essay format and submitted before the determined deadline. Applications submitted without an essay will NOT be considered for the scholarship. Click here to upload your essay as an email attachment or email your essay to prsummer@erau.edu.
Scholarship Applicants do not need to pay a program deposit in order to apply for a scholarship. However, your Boeing Scholarship Application does not secure or hold a spot for you. If you wish to guarantee a spot in any engineering program, you will need to pay the deposit, complete registration forms, as well as submit the Boeing Application.
Please refer to the Prescott Parent Information section for more information on this scholarship program!
Start your scholarship application!
View our Boeing Scholarship Flyer.
Please contact us at 928-777-3956 with any questions on this scholarship.
Summer Camps Updates
Fill out the form below to get up-to-date info on Summer Camps at Embry-Riddle.
Summer Overnight Camps
Live on campus like Embry-Riddle students and explore career possibilities in flight, mechanical engineering, global security, or what it is like to be a NASA astronaut.
Embry-Riddle's overnight summer programs at the Daytona Beach Campus and Prescott Campus introduce the technology of today to the aviators, engineers, and astronauts of tomorrow.
Students live in on-campus dormitories — under the supervision of approved counselors — and share their initial experience of University living with other young people near their age.